Search
Meyn Spiral cooling caroussel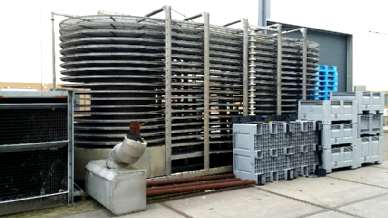 Other equipment
Cooling equipment
STN8763
Meyn
Spiral cooling caroussel
-
-
200 m2 capacity
Cooling carrousel for hot filled products. 20 levels of SS belt with infeed/outfeed-height at 0,70 mtr and 3.30 mtr. Including 2 water or ammoniac cooled condensers with each 4 fans. Belt width: 600 mm. Product clearance: 90 mm. Total cooling surface: 120 mtr x 0.6 mtr = 200 m2. Total dimensions: +/- 8,00 x 2.80 x 3,60 mtr.
Request inquiry
Back to the overview
Order item, or not found?
Get in touch with us directly and we will arrange it for you.