Search
APV 3HD672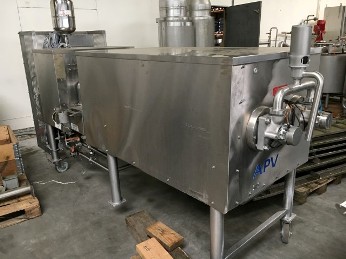 Heat exchangers
Scrape heat exchangers
STN11971
APV
3HD672
0000
-
1,68 m² capacity
Scrape surface heatexchanger. 2 product cylinders. Tube Ø 150 mm. Surface per tube 0,84 m². 1x Main motor which drive both dashers. Previous used on heating media: steam. Pressure product side: 12 bar. Pressure service side: 8 bar. Total dimensions: 360 x 100 x 220 cm. Big set of spare parts included. Currently dismantled. Can only be bought fully reconditioned.
Request inquiry
Back to the overview
Order item, or not found?
Get in touch with us directly and we will arrange it for you.