Search
ABB Robotic IRB140 M2004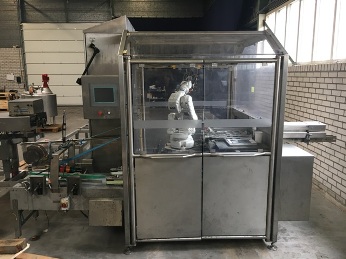 Filling and packaging machines
Packers
STN11957
ABB Robotic
IRB140 M2004
14M-63183
2009
Payload 6 kg
Case packer with infeed conveyor, robot and outfeet conveyor. 3x different format sets. Format set 1: round, diameter 99,5 mm, max height 105 mm, 300 gram, 120 cups/minute, layer pattern: 2x3. Format set 2: square, 110 mm side and max 67 mm height, 225 gram, 120 cups/min, layer pattern: 1x3 or 2x3. Format set 3: oval, 182 mm long, 133,5 mm wide, max height 65,5 mm, 400 gram, 90 cups/min, layer pattern: 1x3. Total dimensions: 390 x 210 x 260 cm.
Request inquiry
Back to the overview
Order item, or not found?
Get in touch with us directly and we will arrange it for you.