Search
- Ozone Generator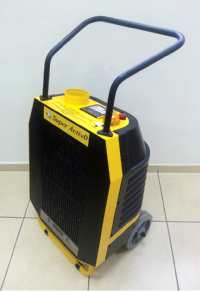 Other equipment
Air treatment
STN10515
Ozone Generator
-
450 m3/h
Super ActivO Ozone Generator. Input Voltage Europe: 230V; 50Hz. Input Voltage North America: 120V; 60Hz. Input power: 350W. Air flow rate: 450 m3/h. 12.000 mg/h. Enclosure Aluminum and plastic. Dimensions 58 x 45 x 84 cm. Weight 33 kg. ENVIRONMENTAL LIMITS: Ambient temperature -5°C to +40°C, Relative humidity up to 95%. SAFETY FEATURES: Circuit breaker, Flashing light indicator, Buzzer alarm, Differential Pressure Regulator, Door interlock. OTHER FEATURES: Fully automatic activation and deactivation cycles, Cycle time 15 minutes to 50 hours with ozone, deactivation; Up to 72 hours without ozone deactivation. Control: digital keypad and display. Free parameter settings of room size and treatment time. Large wheels for easy rolling, leave no tracks. 4" ozone output duct for optional ozone routing to remote ozone room. APPLICATION PROCESS: The Super ActivO ozone application process requires first removing people, pets, plants and items containing natural rubber from an enclosed area. Super ActivO operation is then achieved by using a built-in digital keypad to select room size and treatment time up to 50 hours.
Request inquiry
Back to the overview
Order item, or not found?
Get in touch with us directly and we will arrange it for you.