Search
Remy 7024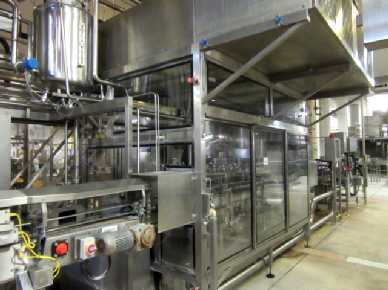 Filling and packaging machines
Bottle filling machines
STN10267
Remy
7024
R2/1
1997
12.000-15.000 bottles/hour
Volumetric bottle filler Stocknumber: STN10267 Manufacturer: Remy Type: 7024 R2-1 Year: 1997 Capacity: 12000-15000 bottles/hour Current bottle size: 1 liter (2 pints) Filling heads: 24 pieces Closing heads: 12 pieces Cap distributor: Zalkin, type CA12, serial nr 76375, 1997 designed for 17.000 pieces/hour Cap: 38 Milk Guard Description: The rotary volumeter continuously fills liquid food (dairy) products into plastic bottles. It's entirely mechanical design ensures reliability and an unrivalled filling precision. The machine is equipped with a laminair flow unit on top of the machine. Control panel with Alan Bradley PLC. Manuals available.
Request inquiry
Back to the overview
Order item, or not found?
Get in touch with us directly and we will arrange it for you.