Search
Sidel en Hema SBO 12 and SRP DPH-E 24/24 E12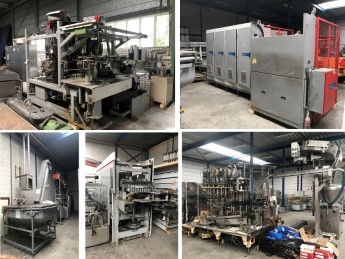 Filling and packaging machines
Bottle filling machines
STN12881
Sidel en Hema
SBO 12 and SRP DPH-E 24/24 E12
33 and 7441
2000
up to 16.800 pieces per hour
PET (Polyethyleen Teraftalaat) bottle blowing, bottle filling and cap closing line. Previously used for liquid oils, fatts and liquid margarine. Current format: Bottle diameter: ± 65 mm. Neck width: ± 26 mm. ± 500 ml. Premould oven/heater: Sidel, type SRS 12 FOUR, serialnr: 33, year: 2000, Power: 437 kW - 662 A - 400 V - 50/60 Hz, weight: 3100 kg. Blower: Sidel, type SBO12, 12 head, weight: 15.000 kg. Multi-heads filling machine: Hema, type: SRP DPH-E 24/24 E12, weight: 6.800 kg, dimensions: ± 8,8 x 4,6 x 4,1 mtr, type of doser: DPH, piston Ø 90 mm, stroke 180 mm, maximum volume 1145 cm3, mouth piece diameter 12 mm, hopper capacity 450 ltr, 24-Heads for filling, max 280 fillings/minute, filling by piston cylinder, if there is no bottle, plunjer remains down and product is forced from the cylinder back into the hopper. 12 Head cover staton including Zalkin closing tower with conveyor and buffer. Double control panel with 2 independent PLC's for Sidel and Hema, Siemens S7-400 Simatic and PC operating interface. Including bunkers for empty pre-moulds / capsules, all interconnecting conveyors and control panels. Manuals and elecric schemes available.
Request inquiry
Back to the overview
Order item, or not found?
Get in touch with us directly and we will arrange it for you.