Search
Alfa Laval Contherm 6x9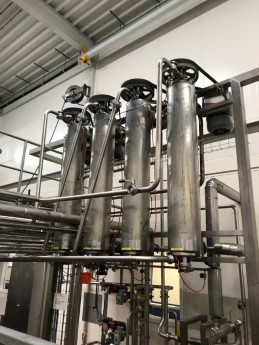 Heat exchangers
Scrape heat exchangers
STN12620
Alfa Laval
Contherm 6x9
HC5102SCN
1998 / 2000 / 1995 / 1992
4x 0,84 m²
Set of 4 scraped surface heat exchangers (SSHE), mounted in a stainless steel frame. The Contherm SSHE is particularly suited for processing viscous, sticky or chunky (containing particalates) products that are to be pumped. Surface per tube 0,84 m². Drive motors: 11 kW. Previous 1x used on heating media steam and 3x used on cooling medium icewater. Pressure product side: Max 300 PSI / 20 bar at 600 °F / 315 °C, Min 100 PSI / 7 bar at -30 °F / -34 °C. Excluding control panel. Previous used for heating/cooling of sauces.
Request inquiry
Back to the overview
Order item, or not found?
Get in touch with us directly and we will arrange it for you.