Search
Karl Schnell KL30RL 50.2 V2A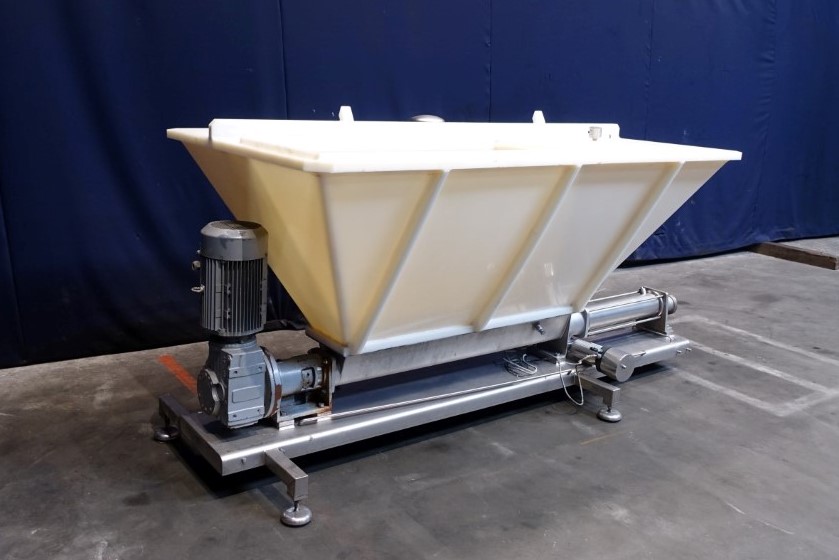 Processed cheese equipment
Processed cheese equipment
STN12389
Karl Schnell
KL30RL 50.2 V2A
914091
2006
500 - 2.500 liter per hour
Processed Cheese collecting hopper of plastic and intergrated transfer pump with infeed screw for viscose products like processed Cheese comming from a cooker. The pump is brand Wangen series KL-RL allow almost pulsationfree pumping of mediums. The large hopper with screw conveyor has only a minimal dead space, despite the compact construction form and avoids stagnation zones thanks to its special design. The stator is equipped with a funnel-shaped inlet for optimal filling of the feed chamber. Maximum free ball passage: 51 mm. Capacity: 500 - 2.500 ltr/h. Max pressure: 15 bar. Current motor: 5,5 kW. N2 = pump speed: 28 - 133 rpm. Frame mounted with infeed hopper. Dimensions infeed hopper: 200 x 100 x 70 cm (volume: ± 1.000 liter).
Request inquiry
Back to the overview
Order item, or not found?
Get in touch with us directly and we will arrange it for you.