Search
Waldner Dosomat 10.4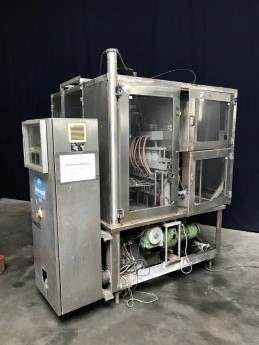 Filling and packaging machines
Cup filling machines
STN12314
Waldner
Dosomat 10.4
1786
1996
9.600 cups per hour
Rotatry cup filling and sealing machine with 4 heads. Cup size round: 95 mm. Stations: Cup destacking, Main piston doser ( 100 - 550 ml ) for viscose products with single jacketed hopper (CIP cleanable), alu pre formed seal dispending by vacuum, heat sealing, outfeed on +/- 1 meter single lane outfeed conveyor. Machine has plexiglas safety guards. Machine is in clean execution. Controls incomplete. Electric scheme available.
Request inquiry
Back to the overview
Order item, or not found?
Get in touch with us directly and we will arrange it for you.