Search
Stephan TK150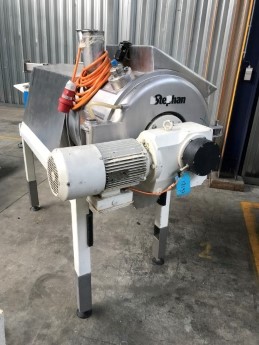 Other equipment
Batch mixers
STN12192
Stephan
TK150
714.539.01
1989
150 liters
Universal horizontal vacuum mixer. The main product bowl and cover are double jacketed for cooling or heating (no valves on jacket), vacuum proof (not connected). Hydraulic unit for moving outlet slide on bottom outlet. Top inlet and the main front lid have 1 clamps, manual tightening and contact sensor, infeed hopper. 2 agitators: 1 scraper agitator, 25rpm and 1 mixer knife (knife itself excluded). Main motor 11 kW, 100-730 rpm. Including control panel with frequency converter, electric scheme available.
Request inquiry
Back to the overview
Order item, or not found?
Get in touch with us directly and we will arrange it for you.