Search
Simon Freres ISIGNY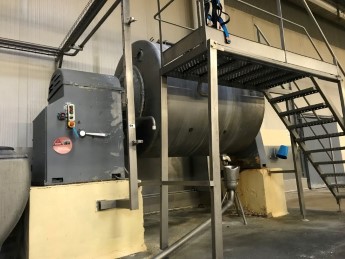 Butter equipment
Butter equipment
STN12180
Simon Freres
ISIGNY
0000
3000 liters
Rollerless conventional butter batch churn with stainless steel barrel. SS304. Outside satin polished. Inside sand-blased to prevent sticking of butter. Cylindrical shape. Large watertight acces door. Sight glass. Painted drive mechanism with progressive clutch, speed drive between 6 and 35 rpm. Diameter ± 155 cm. Length of the churn: ± 190 cm. Contents in liters of cream minimum 300 liter and maximum 1500 liter. Butter produced per batch minimum 150 kg and maximum 750 kg/butter per batch. Motor: 5,5 kW. Weight: ± 2000 kg. Excluding stainless steel bordes to look inside the butterchurn.
Request inquiry
Back to the overview
Order item, or not found?
Get in touch with us directly and we will arrange it for you.