Search
E.T. Oakes LTD 8MHA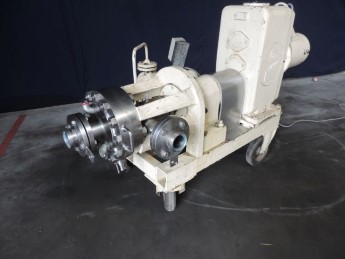 Homogenisers
Inline emulsifiers / mixers
STN12063
E.T. Oakes LTD
8MHA
1893
-
440 kilograms per hour
Bearing Housing Mixer. Ideally suited for highly viscous slurry applications, or when your usage requires only the mixing head and drive assembly. The unique design of the high shear Oakes Rotor/Stator Mixing Head is the key to consistent final densities. Aerate and/or homogenize slurry with minimal heat rise. Current mixing head sizes: 8″. Applications: biscuit marshmallow, cake batter, candy marshmallow, cheese cake, icing, layer cake, nougat, pie fillings, soy bean, whipped butter and more. Capacity: 2,3 Kpm up to 7,4 Kpm. Motor: 5,5 kW - 1440 rpm. Connections: DN50/DN50. Including injection pump, motor 4 kW, Q 2 - 14 m3/h, pressure 5,8 - 4,3 bar. Total dimensions: 170 x 80 x 110 cm.
Request inquiry
Back to the overview
Order item, or not found?
Get in touch with us directly and we will arrange it for you.