Search
Simon Freres MXT 240/104 - Salt dosing and blending inline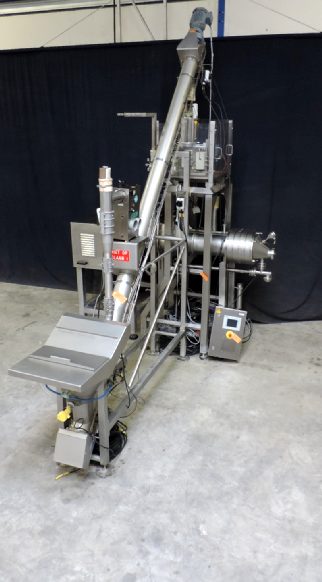 Butter equipment
Butter equipment
STN11569
Simon Freres
MXT 240/104 - Salt dosing and blending inline
67
2010
- kilograms per hour
Mixing technology (MXT) based on the know-how in continuous butter production by using of counter-rotating Archimedes screws which ensures both excellent mixing and very good product transfer. MXT units are designed to mix butter and vegetable fat blends (solid/solids), butter with 60% fat content from standard fresh butter, light blends (60%) made from fresh butter and refined vegetable oils, butter + sugar + cocoa powder, butter + garlic + herbs, butter + honey, butter + fruit pulp, butter + particles (nuts, dry fruit), Butter + yoghurt (25%), butter premix + powders, texturisation of butter or margarine, blends of butter and vegetable fat (up to 80 % of vegetable fat). The current machine is used for mixing salt inline. Salt adding system for butter, to add salt inline with the unsalted butter. Including feeding hopper, feeding agitator and inline mixing device. Inside of control panel available, no cabinet.
Request inquiry
Back to the overview
Order item, or not found?
Get in touch with us directly and we will arrange it for you.