Search
Stephan TK600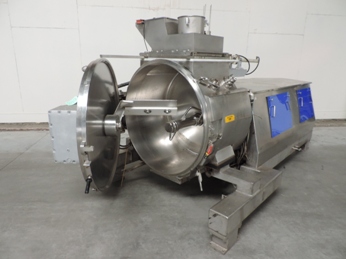 Processed cheese equipment
Processed cheese equipment
STN10335
Stephan
TK600
-
1991
600 liters
Batch mixer which can be adapted to a processed cheese cutter / melter / cooker (Universal machine). Main motor 90 kW, 1000 rpm. Scraper motor 15 kW, 25 rpm. Bowl capacity: 600 liters (± 500 kg batches), stainless steel frame, double jacketed bowl and lid, 2 clamps, 2x connections for infeed valves (no valves), top and bottom slide (hydraulic driven), hydraulic unit, Mixing knife, perpendicular agitator drivework, main motor with brake. Excluding control panel. Dimensions: ± 3400 x 1300 x 2350 mm. Weight: ± 3800 kg.
Request inquiry
Back to the overview
Order item, or not found?
Get in touch with us directly and we will arrange it for you.