Search
Haßheider/P-M-B Hygiene Technik PMB 200L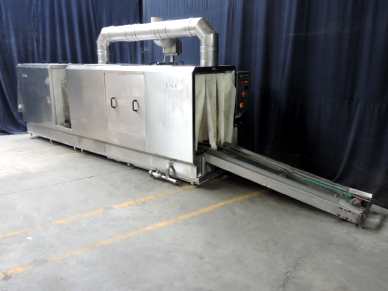 Other equipment
Washing / cleaning machines
STN10097
Haßheider/P-M-B Hygiene Technik
PMB 200L
-
2002
-
Complete stainless steel, steam heated, washing machine for barrels or drums. Consisting of 3 steps. Main wash, rinse and drying. Section 1: washing with lye (soap), heated by steam injection (thermostat 30-90°C) pump 7,5 kW. Detergent controlled by conductivity sensor. With automatic tank filling and level monitoring. Section 2: rinse, water flow control valve and recuperation of water. Suction device (incl. ventilator) for taking away the water vapor in the washing and rinse section. Section 3: drying high-pressure ventilator of 7.5 kW with recuperation of water.Conveyer-belt speed adjustable, ±1-5 m/min. Documentation and electrical scheme`s available. Including outlet ramp 90 degree angle.
Request inquiry
Back to the overview
Order item, or not found?
Get in touch with us directly and we will arrange it for you.