Search
APV Gaulin MP12-5TBS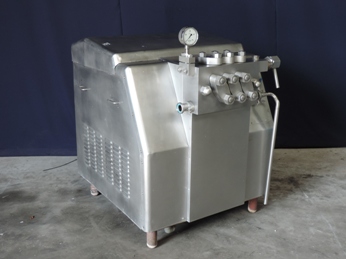 Homogenisers
High pressure homogenisers
STN6581
APV Gaulin
MP12-5TBS
Jaarlijkse inspectie
-
1000 liter per hour
1 stage. Manual pressure control. 3 pistons. Piston diameter: 30 mm. Stainless steel cladded. Connections: 1,5" DIN. Current motor power: 11 kW - 965 rpm - 25/14,5 A. Maximum pressure in current confirguration with this motor 350 bar. Manometer (0-25bar) on inlet.
Request inquiry
Back to the overview
Order item, or not found?
Get in touch with us directly and we will arrange it for you.