Search
Stephan UHT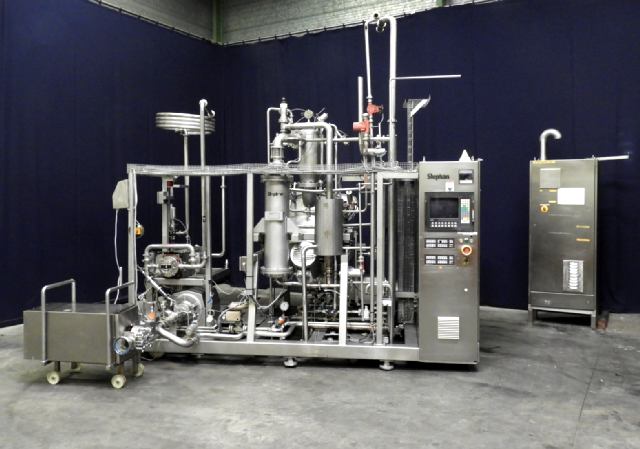 Processed cheese equipment
Processed cheese equipment
STN12520
Stephan
UHT
719.383.01
1993
600 kilograms per hour
Continuous UHT unit for processed cheese (CIP cleanable). Skid mounted unit with steam injection into the head of the cutter MCH20SDK (15 kW), steam control valve, lobe boosterpump (Fristam, FKFH 40) holding tube (20"), counter pressure valve, flowdiversion valve, combined flash/creaming tank 300 ltr with agitator on loadcells, vacuum system with condensor and level control. Outfeed lobe pump (Fristam FKFHS 40/45), CIP return pump (Fristam FZ 22 D, 11 kW). Current temperature cycle: approx 25 - 100°C (adjustable) - holding - 80°C - out. Including: control panel with Siemens S5, temperature recorder and ph meter. Separate box with frequenze converters and mobile infeed lobe pump (Fristam FKFH 40/45). Excluding: vacuum pump and hopper with augers to the infeed pump. Documentation available.cheese with can be stored outside the fridge. Including: control panel and steam filter set. Manuals available.
Request inquiry
Back to the overview
Order item, or not found?
Get in touch with us directly and we will arrange it for you.